September 9, 2022
9:30 am to 5:00 pm
Tilden Room, Located on the 5th floor of the MLK Jr./ASUC Student Union Building at UC Berkeley
Join the Black Studies Collaboratory and the Department of African American Studies for our first Small Grantee Symposium, featuring the projects of some of the 27 recipients of our Spring and Summer 2022 Small Grantee Program. Organized as a series of conversations around Black space, place, sound, archives, study, healing and Black futures, the symposium centers new ways of telling stories about Black life.
Professors Nikki Jones, Nadia Ellis, and Courtney Morris and current and former BSC fellows, Ms. Daphne Muse, Michael J. Myers II, and Dr. Victoria Grubbs will join us as panel moderators. Audience participation, engagement and fellowship is welcome and encouraged.
Please join us to celebrate our grantees, learn about their innovative projects, and dialogue together in community!
Event Schedule
9:30 – 10:00 am: Check in begins, breakfast refreshments available
10:00 am: Program begins, opening remarks
10:15 am – 12:00 pm: Morning panels
12:00 – 1:00 pm: Lunch
1:00 – 5:00 pm: Afternoon panels
5:00 – 5:30 pm: Program ends, followed by open conversation and mingling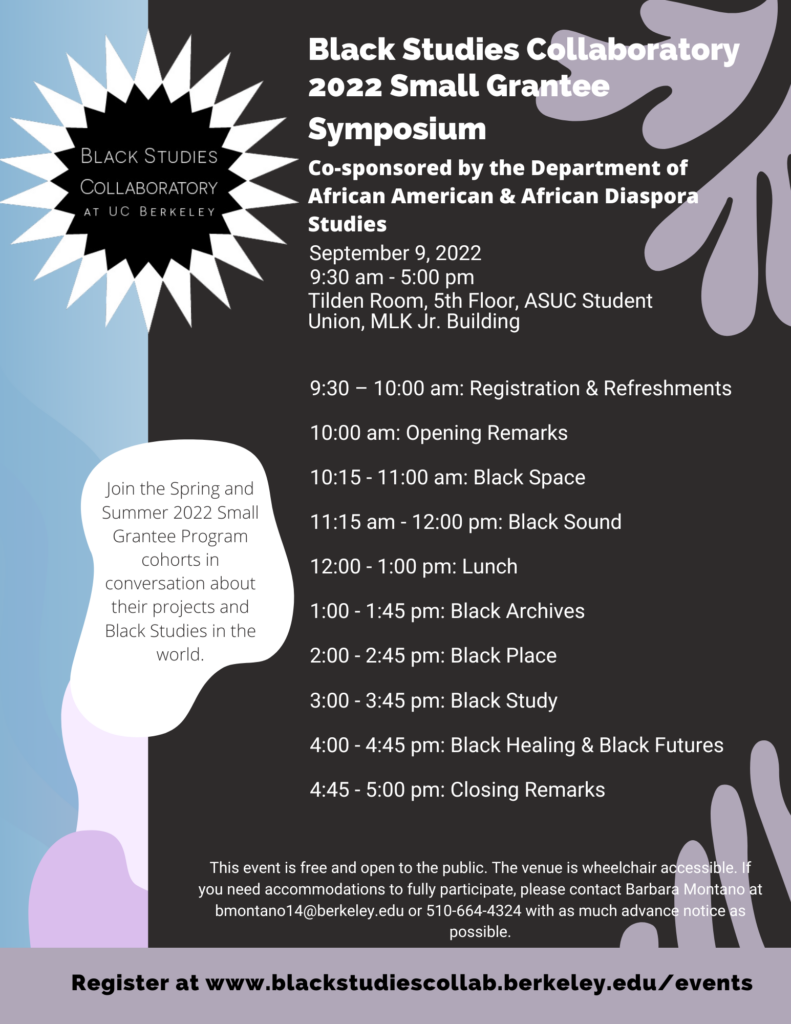 Event Recordings
Accessibility
This event is free and open to the public. The venue is wheelchair accessible. If you need accommodations to fully participate, please contact Barbara Montano at bmontano14@berkeley.edu or 510-664-4324 with as much advance notice as possible.